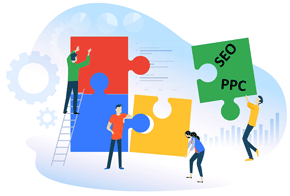 Advertising Agencies, PR firms and Marketing companies know that providing great service and results to clients sometimes means partnering with a third-party provider. With no additional overhead, you can easily add Google Ad Management, SEO, and Social Media Advertising services to attract more clients.
Why Us?
Since 2007 Marketing on the Web has helped companies achieve first-page-placement through our search optimization and marketing strategies.
The digital marketing experts at Marketing on the Web regularly partner with advertising agencies, PR firms and other marketing companies. As an adjunct to your in-house marketing team, MOTW can improve the on-line presence of your business without the overhead of full-time SEO/SEM staff. We excel in creating and managing all aspects of digital advertising, social media management and reputation management.
Flexible Approach
With over 25 years of experience we know how to interact with your clients in a professional manner that reflects positively on you. We always remember that these are your clients.
Partners can present us to clients as:
The digital marketing arm of your agency.
– OR –
A marketing partner with a focused expertise in digital marketing that will manage your client's online marketing efforts.
Digital Marketing Subcontractor for Ad Agencies and PR Firms
We are a performance-oriented, data-driven Internet marketing firm.
Services include:
Website Audits
Search Engine Optimization (SEO)
Search Engine Marketing (SEM)
– Pay-Per-Click (PPC) advertising: PPC campaign development, PPC management, display advertising, re-marketing.
Social Media Marketing (SSM) & Content Management
– Social media management and advertising
Reputation Management
Landing Page Testing: A/B and multivariate testing
Google Analytics: Initial set up, ongoing management and consulting
Located in Huntsville Al, Marketing on the Web partners with advertising agencies, PR firms and marketing organizations to provide effective Internet marketing services.
To discuss opportunities to increase your customer's online success, please call or email us!
We're local and available to meet with you or your clients face-to-face!