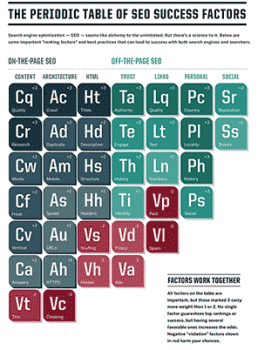 When someone uses a search engine to locate a product or service, that engine attempts to guide the user to the most appropriate results. Search engines base their evaluations on a variety of factors, including incoming links, page names, structure, navigation and content.
Marketing on the Web conducts Website Audits (SEO Audits) for businesses based in the Huntsville Alabama Area. A Website, or SEO Audit provides a detailed evaluation of your site to identify issues and detail opportunities for improvement. This helps you to understand any deficiencies with your site and enables you to evaluate your next step.
In the case of a new website, the Audit maps out a strategy to get the most attention for your products and services. Similarly, when updating an existing site, even one that is currently well ranked by the search engines, it's important to carefully consider any changes you are planning. A small misstep here can quickly take a website from the front page of Google to virtual obscurity.
"I've been in marketing a long time but I've never seen anyone dig into the details of SEO like Marketing on the Web. Their report was very concise, accurate, and helped enlighten us to get the most from our web presence. We look forward to a long relationship with Marketing on the Web"
– Pheaton Guinn, Director of Marketing at US Diagnostics.
The Audit will evaluate the structure of your site, its content, and incoming links to ensure that the most valuable search phrases are emphasized in the new design. If you want to know more about an Website Audit, check out this video.
Do you need help with your site?
If you have a Huntsville-based business and want to drive more traffic to your web site, generate more leads, and convert more of those leads into sales – Contact Us!