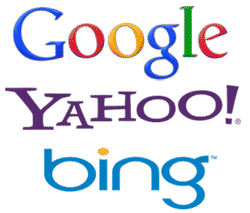 Internet Advertising is the quickest way to get your business on the first page of search results.
Also known as Search Engine Marketing (SEM), we manage campaigns on many platforms including Google, bing, Yahoo, facebook, LinkedIn and others.
Pay-Per-Click
On Google, bing and Yahoo, your business competes with others for first page placement at the top and right of non-paid (organic) search results. Your ad is only displayed when someone searches on key phrases related to your products and services. Also known as a "Pay Per Click" campaign, your ad may be seen thousands of times, but you are only charged when someone actually clicks through to your website.
Display Ads
Display adverting shows your ad based on various criteria. Your ad may be shown on pages that contain certain key words and phrases, or may also target topics interests, Display campaigns may be further targeted based on gender and location. We like display ads to build brand recognition.
Re-Targeting or Re-Marketing Ads
One of the newer ad formats re-targeting lets us show ads to users that have previously visited your website, or to whom are shopping for similar product sand services. These very effective ads alert in-market shoppers about your services and remind website visitors to come back and complete previous activity.
What to know more about Search Engine Marketing?