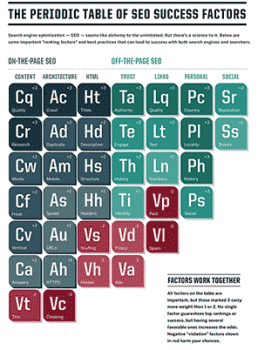 When someone types in a phrase that relates to your service or product, you want your website to appear (rank) as high on the first page of the search results as possible. Search Engine Optimization or "SEO" refers to the process of optimizing your website so that it will rank higher in the natural (organic) search results.
Search engines each have a set of algorithms (or rules) they use to determine the relevance of your content. Google's algorithms evaluate over 200 of these factors in its ranking process. Some of these factors are on your website (on-site) and include things such as site structure and content. While other factors are off-site and can weigh heavily in determining how much authority Google's algorithm applies to your products and services.
"When the National Children's Advocacy Center launched our new website in September of 2011, search engine optimization work done by Marketing on the Web expanded our organization's visibility online and helped increase visitor traffic to our website." – P. Jones, Training Program Manager
So, what are these factors? Google publishes a set of webmaster's guidelines that help us understand what is important to rank in Google Search. These guidelines, however, are chiefly on-site factors. Off-site factors are not published. As a result, we must rely on the on unofficial studies and our own experience to uncover these elements. To complicate things these off-site elements are in a constant state of flux as Google's on-going efforts to improve its algorithm to weed out websites that attempt to manipulate their rankings.
You may have heard the terms "White-Hat" and "Black-Hat" SEO. "White-Hat" practitioners follow Google's guidelines and attempt to influence off-site factors, by promoting your products and services. "Black-hat" practitioners work to get quick gains using techniques that are less natural. "Black-hat" techniques are the frequent targets of Google's algorithm updates and their methods can relegate a website to obscurity overnight.
Do you need help with SEO Services?
Marketing on the Web provides "SEO" services to the Huntsville Alabama area. If you want to optimize your website for search – Contact us!