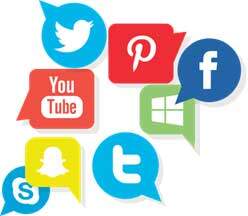 Social media allows businesses to network, educate, and share information with customers and prospects alike. Unlike traditional broadcast mediums such as email, newspaper, and television. Social Media is interactive. Companies can have conversations with customers who can ask questions, provide feedback, and endorse their products and services. All the while, your company is engaging the audience, building relationships, and improving brand affinity.
When it comes to making purchase decisions, people are more likely to trust the reviews and information found on Social Media sites more than traditional media's commercials, making Social Media a powerful marketing tool.
In addition, Social Media is a great way to keep the information about your company fresh, improving the relevancy of your products and services in the search results of Google, Bing and other search engines.
Social Media Marketing (SMM) Services
Social Media Strategies
Market/Industry Research
Plan Development
Brand Integration
Social Media Management
Profile/Account Setup
Branded Content Development
Conversation Management
Monitoring/Reporting
Social Media Training
Speaking Engagements for Groups/Organizations
Individual Training
Social Team Consulting
Social Media Marketing (SMM) allows businesses to join the conversation, create communities and to empower "brand ambassadors" to spread their messages.
Do you need help with a Social Media Marketing?
Marketing on the Web assists businesses in the Huntsville Alabama area with their social media efforts. If you want to be more effective with your Social Media efforts – Contact us today!